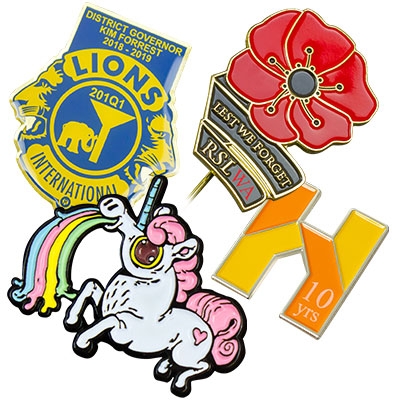 Lapel Pins, Australia's #1 Enamel Pins & Badges
We specialise in the best range of customised and bespoke manufactured lapel pins in Australia. With all kind of options including enamel pins, epoxy dome finish, custom shapes and sizes all with low minimum order quantities. We won't be matched on price, quality or turnaround time, request a quote now. if lapel pins are not your thing then try our range of custom keychains Get A Quote Now
Quotes are 100% Obligation Free.
Emailed To You In Minutes.
Why Use A Lapel Pin
How To Choose A Lapel Pin
How To Wear A Lapel Pin
Where To Buy Lapel Pins
Lapel pins enhance any piece of clothing because they represent the wearer's affiliation with a particular organisation or cause. Besides, it is a cost-effective solution to add an element of personalisation to your style statement.
The creativity involved in the designing of custom lapel pins has come a long way over the past few decades. With the right tools, anyone can design attractive lapel pins to express their views, in a unique manner. Besides, customisation of the lapel pins no longer requires any prior experience as we help you to make it a hassle-free process.
Why use a Lapel Pin?
For Business Companies and Corporates
For the proliferation of every business organisation, strong brand presence and brand visibility are important. From the business point of view, lapel pins Australia can make a huge difference for your company as it helps you to create a perfect representation of your corporate logo. It also helps you to identify your employees and other officials at conferences, conventions, and exhibitions.
Lapel pins are a great source of increasing your brand visibility, allowing your clients to relate your company with a particular product. Further, a custom lapel pin can be used to signify a number of achievements for sales team members and product development teams.
For Social Groups and Communal Events
Being part of a social group or community is an important aspect of civilian lifestyle. The symbols and emblems of every social group provide a distinction to each of its members. Within every social group and community, regardless of its size, denomination and geographic location, social communication and interactions play an important role.
Lapel pins for each community and social group allow its members to connect to each other, share their thoughts and helps foster a sense of pride between themselves. Lapel pins also serve as a gesture to say thank you and appreciate the harmony within a society. It provides many opportunities for a social group to gain more visibility within the entire community and helps increase its members.
For Political and Voting Campaigns
Political campaigns involve the use of different strategies to solidify the support and improve candidate recognition among the masses. Through political figure pins, candidates can have their name or image featured on an enamel pin. Political campaigns can also feature Australian flag lapel pins to entice patriotism among the people. For voting purposes, distinct pins can be designed encouraging the people to exercise their constitutional right to vote.
Besides, voting pins can be created to prompt the people to vote for a particular candidate as well. If you can phrase a short and powerful statement of your political views into an enticing metal pin, it can make a difference if worn publicly. Similarly, humour has played an important role in the politics. You can create a funny political pin that helps you gain support of the people by resonating your ideas with the populace.
For Non-Profit Associations and Social Causes
Within every society, people come together when faced with any social or economic challenge. Awareness education becomes important to educate people about important issues and to show their support to make a change. The symbols for such causes become recognisable and are essential to keep important causes in the public eye.
Custom lapel pins are an effective way of spreading attention, awareness, and your message out in the community. They serve as effective advertisements and reminders of an impending issue, which needs to be presented before the masses.
For Schools, Educational Institutes, and Universities
Every school, university or an educational university has a unique identity that is duly reflected by the symbols and emblems worn by the students, staff, and other members at important gatherings, events, and occasions. The symbols reflect the identity, fraternity, sorority, and designation of the members within an institution.
By using a custom lapel pin, schools and universities can promote themselves in an effective manner. Through lapel pins, students or members of an institution can be easily recognised at an event where delegates from several institutes are present.
For Sporting Events
Sporting events are a part of every culture and society. Games and sporting events provide a platform for people from all age groups to come together and support their favourite teams. Custom sports lapel pins are designed in attractive forms to help fans support their favourite teams at leading sports events and tournaments.
Whether a team plays basketball, cricket, football or hockey, custom lapel pins provide a comprehensive coverage of every major sporting event. For sports teams and clubs, lapel pins also provide a distinct identity to the support staff, and volunteers working for a specific sporting event.