Lapel pins are the perfect way to reward long service to your staff, they make a fantastic achievement award in sports and by far our most requested use for these lapel pins is from non-profit organisations looking to re-sell and raise funds or awareness for charity. Lapel pins have a massive return on investment for non-profit groups, they have sold for as much as $100 to individuals and businesses that want to show support for a charity. They also make a great souvenir that can be pinned to hats, caps and backpacks. See below for branding info.
Read More ...
Less
Rush Service
14 Days
Minimum Order
50
Artwork Design
100% Free
Branding Method Explained
A Brilliant effect and by far our most popular style of lapel pin finishing. We mould your design into the shape of the pin and then fill various sectors of the design with colour matched enamel to create a vibrant, extremely long lasting and durable finish. The difference between raised enamel and flat enamel is that these badges have an almost 3d look, with raised section that are polished or sandblasted to create a more defined finish.
Lapel Clip Fittings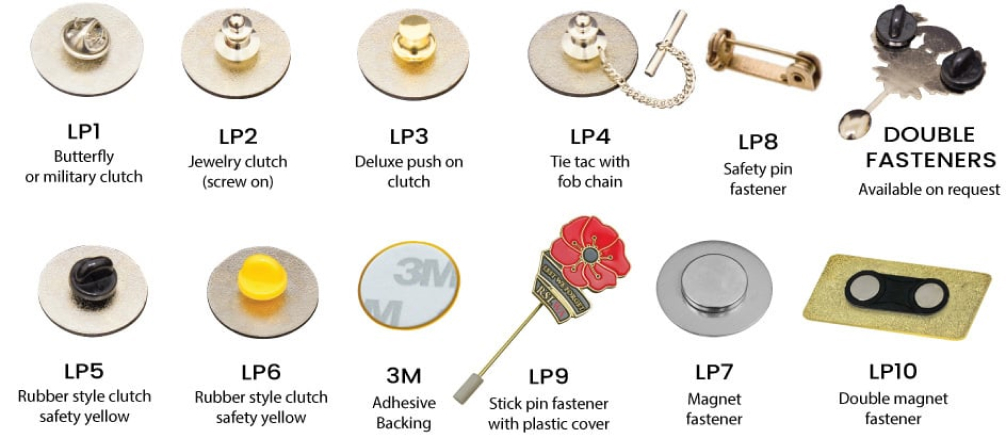 Custom Packaging Options
We offer custom gift boxes, backing cards & velvet pouches on request, below is just a few of our available in stock gift packaging options. Please remember, if you have seen a special box or pouch you like elsewhere we are able to custom source or produce these for you. Just ask!