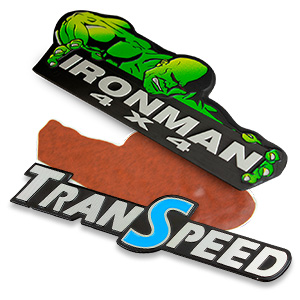 Custom Labels, Compliance Plates & Plaques
From bull bars to desktop computers, our domed stickers, labels and badges are the perfect solution for branding almost any items and ensuring consumers associate it with your company. Put your stamp of approval on products leaving your factory or remind people where they had their last round of maintenance done. Our labels are designed to be highly durable and long lasting, using 3m adhesive or riveting and our various branding methods will last for decades.


Browse all Name Plates & Labels
Time To Make Your Mark
Maybe you run a computer store and build PC units using parts from various manufacturers? In that instance, you could brand the PC case with your own epoxy dome badge and make sure you put your stamp on the item. Perhaps you operate a vehicle performance company like Cosworth or Pro Drive, and you need to brand a vehicle that has been enhanced? Our products could assist with that too! The possibilities are endless.
Completely Custom Made At Australia's Most Competitive Prices
We custom produce these items to order, and they come in any size, shape, and colour based on the requirements of our customers and clients. The branding method is full-colour as standard, but we also offer iron stamping, printing and acid etch for different instances in which those techniques might be appropriate. Make sure you speak to our team at length about what you want to achieve and how you plan to use the labels, stickers and badges when placing your order to ensure you get the best possible solution for your requirements.
100% Free Design Service Included On All Orders
As with all the other products we sell to businesses and individuals around the country; our team offers a free design service that helps to take all the hard work out of the process for our clients. You tell us what you want, and we'll make suggestions and recommendations for what we need to achieve that goal. You may have to send us some high-quality logo image files or something similar if you want to make sure the products are in keeping with your standard branding approach.
We also offer a best price guarantee which ensures our company will beat any like or like quote you might obtain from a competitor in Australia. We are so confident that we provide the most affordable items on the market today that we rarely have to honour that offer, but we always will!
Rapid Production And Delivery To Your Door
As soon as you sign off on the design and we iron out all the details; our specialists will start working on your labels, domed stickers and domed badges the very same day. We aim to have all purchases at your door in 5 days at most, but our team regularly beats that deadline. So, don't stress too much if you think you might need these promotional items in an emergency. We will do everything possible to ensure they reach you in time.
If you would like to know more about our Epoxy domed stickers or badges; do not hesitate to give us a call using the phone number listed on this site. There is always someone around during working hours to answer the phones and deal with your request. If you would prefer to send us an email; you can do that too. We aim to reply to all correspondence the same day, and we hope to start working on your project as soon as you approve the final designs and give us the go-ahead.