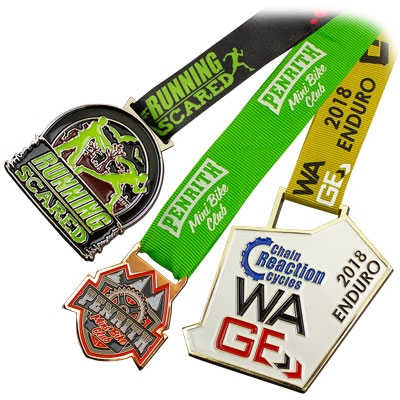 Custom Medals and Coins Personalised at Australia's #1 Lowest Prices!
We can't be beaten on our price, quality, service or turnaround times. No other custom medal supplier can provide you an all inclusive design service, rapid rush service and a price match guarantee. This means if you find a lower price on an identically designed medal we will match it and still provide you with our next level customer service! Don't delay. We offer various printed logo options and printed ribbons in full colour and woven variants so browse our medal styles below and reach out to us for a 100% free, no obligation quote! if medals are not your thing then try our range of custom keyrings Get A Quote Now
Quotes are 100% Obligation Free.
Emailed To You In Minutes.
100% Customised medals
Popular uses for medals
Recognise your team
Custom medal ribbons available
Complete your medals with a fully printed ribbon in just about any width you could think of. We have options for printing in 1-4 colour, full colour dye sublimation which allows for vibrant gradients and photographic printing and we even offer tri colour woven options to emulate a traditional award ribbon. There really isn't anything we won't produce. Contact our team today for more information and a 100% free virtual sample prior to ordering.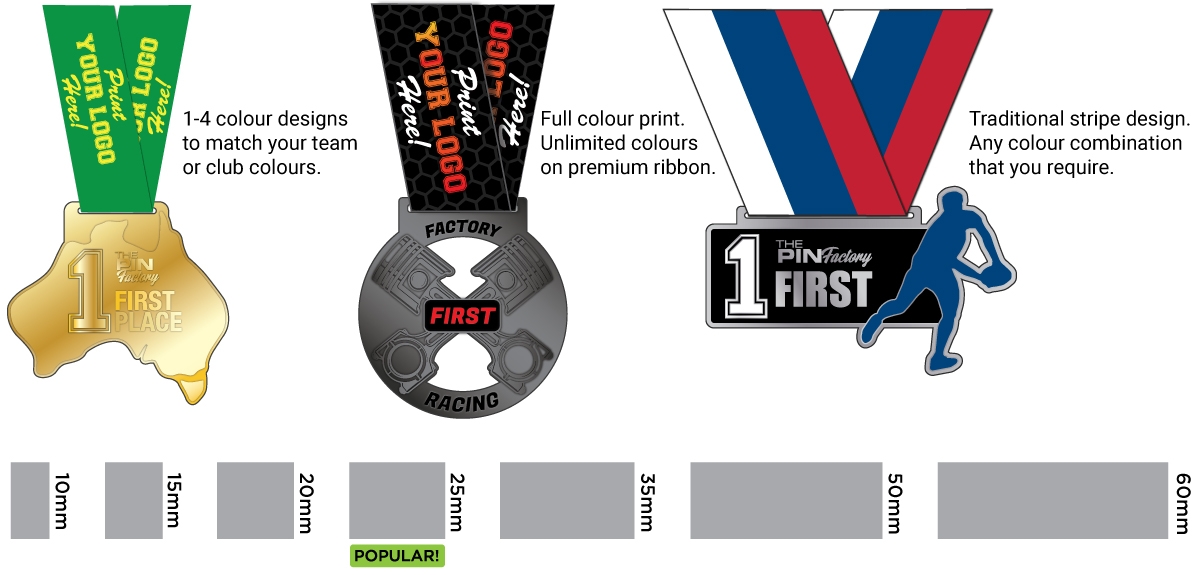 Order your very own custom medals from us!
By now you are likely considering ordering custom designed sporting medals or marathon medals, and there is no need to go elsewhere, we are the #1 medal and customised metal product supplier in Australia. Our customer service is unbeatable. We can provide high-quality and durable custom medals for any occasion. Our cast metal awards and mementos are made using enamel colour finishing and can be printed on both sides, which gives our customers plenty of wiggle room when it comes to designing the perfect product. We can even create unique custom shapes. Just be sure to include any relevant details, such as the year and name of the event being celebrated, in addition to the logo.
Get in touch today to get started on the design process. Customers can choose from sizes starting at 40mm all the way up to any size you require with some clients choosing to go as big as 150mm!. Finishes like Gold Antique, Gold Polished, Silver Antique, Silver Polished, Bronze Antique, and Bronze Polished are all available with any enamel color scheme. Plus, medal ribbons are available for those who want to create wearable moulded medals for a competition or other event.
Our artists work with all our customers to ensure each of their specifications are met prior to starting production. The entire design process is free, so don't be afraid to insist on any important changes. After all, the medals being created are intended to be treasured for a lifetime. Our design experts are here to help throughout every step of the process, so call today to get started.