We can't be beaten on our price, quality, service or turnaround times. No other custom medal supplier can provide you an all inclusive design service, rapid rush service and a price match guarantee. This means if you find a lower price on an identically designed medal we will match it and still provide you with our next level customer service! Don't delay. We offer printed ribbons in full colour and woven variants so browse our medal styles below and reach out to us for a 100% free, no obligation quote! medals not your thing? then try our range of custom keyrings
Read More
Our Fast And Easy Order Process
Instant Quote

Browse any product and select a few key options, then enter your details to receive an instant quote from our system.

Send Us Your Idea

Send us a sketch, design files or just a description and let our design team design and amend until you are 100% happy.

Approve Artwork

Our team will send you a production ready artwork for approval so you can see exactly what you are ordering.

Produce & Deliver

We will then produce your pins according to approved artwork and delivery straight from our factory to your door!
Need Help? Can't Find The Right Product?
If you need help choosing the right product for your business then talk to us today! Our experts are on stand by to assist with your query.
We also specialise in bespoke creation of products and product development so if you have an idea or have seen an item somewhere that is not listed on our website then we can help to bring your vision to life.
People Love Our Products & Service
100% Customised medals
Custom medal ribbons available
Complete your medals with a fully printed ribbon in just about any width you could think of. We have options for printing in 1-4 colour, full colour dye sublimation which allows for vibrant gradients and photographic printing and we even offer tri colour woven options to emulate a traditional award ribbon. There really isn't anything we won't produce. Contact our team today for more information and a 100% free virtual sample prior to ordering.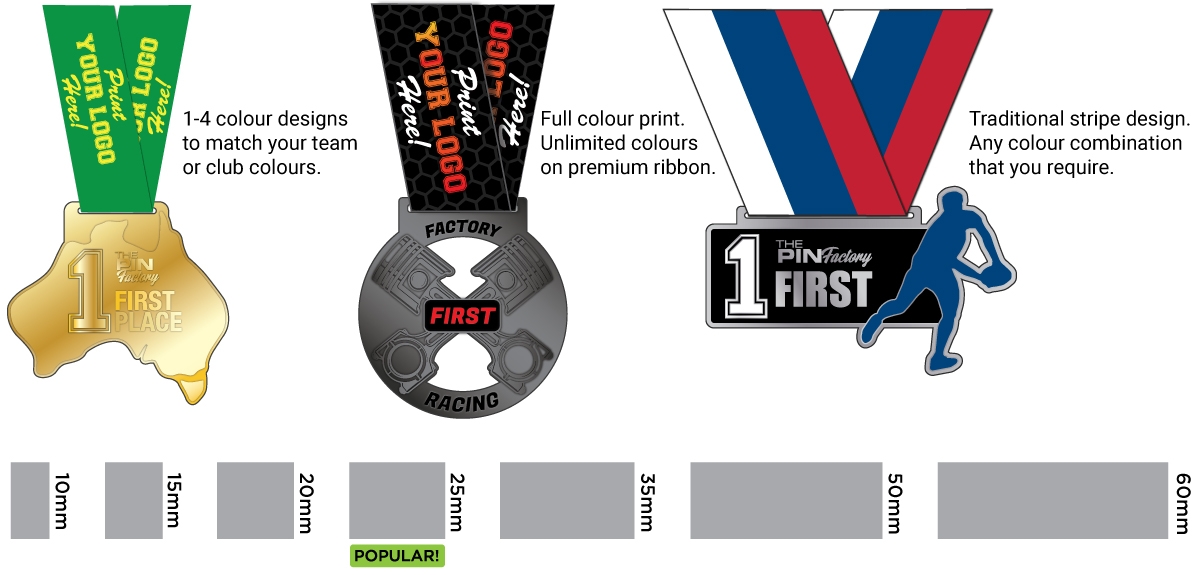 Order your very own custom medals from us!
By now you are likely considering ordering custom designed sporting medals or marathon medals, and there is no need to go elsewhere, we are the #1 medal and customised metal product supplier in Australia. Our customer service is unbeatable. We can provide high-quality and durable custom medals for any occasion. Our cast metal awards and mementos are made using enamel colour finishing and can be printed on both sides, which gives our customers plenty of wiggle room when it comes to designing the perfect product. We can even create unique custom shapes. Just be sure to include any relevant details, such as the year and name of the event being celebrated, in addition to the logo.
Get in touch today to get started on the design process. Customers can choose from sizes starting at 40mm all the way up to any size you require with some clients choosing to go as big as 150mm!. Finishes like Gold Antique, Gold Polished, Silver Antique, Silver Polished, Bronze Antique, and Bronze Polished are all available with any enamel color scheme. Plus, medal ribbons are available for those who want to create wearable moulded medals for a competition or other event.
Our artists work with all our customers to ensure each of their specifications are met prior to starting production. The entire design process is free, so don't be afraid to insist on any important changes. After all, the medals being created are intended to be treasured for a lifetime. Our design experts are here to help throughout every step of the process, so call today to get started.
Popular uses for medals
The various purposes of customised medals
Check out our extensive range of custom medals! The humble alternative to trophies and awards have been popular for centuries. A quality product that is most frequently used as an finisher medal and they are usually colour printed or moulded with an engraved plate, although today they are sometimes used as mementos as well and even corporate gifts. As a result, they are one of the most popular promotional branded products on the market. Medals are long-lasting and effective at conjuring up a sentimental effect, making them much more likely to wind up on display in a home or office and less likely to end up in the garbage. If that fact alone isn't enough to convince business owners, event organisers, and club members to consider the benefits of utilizing printed medals, go ahead and read on to find some more innovative ideas and suggestions.
Sports Medallions
Sports fans are always looking for new ways to commemorate their favorite teams' big wins. Everybody wants to win the gold medal, however a well designed sports medal in any colour, gold silver or bronze can be a brilliant keepsake.
Sports medallions can incorporate both team logos and information about their biggest accomplishments. Sponsors may even want to consider making good use of double-sided medallions to incorporate their brand or product logo on one side with the sports team's on the other.
Celebrating Milestones
Growing companies and organisations have every reason to celebrate their hard-earned success. While giving people something special like a metal key chain can be good, creating custom commemorative medals for employees or volunteers who have helped them rise in the ranks is a great way to express appreciation. They can also be wonderful mementos of milestone events and celebrations.
Social Clubs
Members of diverse social clubs all have one thing in common: they love meeting other people with similar interests. Commemorative medallions can be a great way to indicate membership in a particular club or group. Consider printing a large lot of smaller pin-on medallions so members can wear them on their lapels or in other prominent locations without too much difficulty. Sometimes medals aren't ideal and perhaps a wearable solution like specially engraved cufflinks or a nice tie clip could be a good alternative too!
School Competitions
Sports teams aren't the only ones who compete on a regular basis for recognition. School competitions surrounding everything from academic achievement to spelling bees can all benefit from the inclusion of specialty medals or medallions. Be sure to include a custom printed neck ribbon for maximum impact at awards ceremonies. It's also good to keep in mind that proud parents love to show off their young students' accomplishments. These marathon medals will likely be placed in prominent positions in homes for years to come.
Non-Profit Events
Every non-profit event or fundraiser seems to give away the same promotional products. One person can only wear so many branded t-shirts, though, and they have become so commonplace as to be unremarkable. Printing large lots of commemorative medals to give away as door gifts to major donors at fundraisers is a much more elegant way to express appreciation than yet another t-shirt or water bottle.
Valued Employees
When valued employees retire, it is cause for both celebration and commemoration. What could say that a cherished employee has been appreciated and will be missed better than a medal honoring his or her achievements? A retirement party is a perfect opportunity to present this type of gift.
Whilst there are hundreds of promotional products to highlight significant events or enhance corporate branding, only wholesale custom medals can convey the message in a strong, sustainable way. Here, our customers will discover the benefits of customised awards.
Recognise your team
Recognizing Those Who Deserve It
Everyone likes knowing that they're appreciated, and recognition is one of the best ways to acknowledge groups' and individuals' efforts while retaining and encouraging performance. The presentation of a customised medal symbolises success, and because these awards are unique to each customer, they reinforce corporate values, brand image, originality, and excellence.
Representing a Profitable Investment
For companies, customised medals and awards are a sound investment. Not only do they strengthen the firm's brand image, they encourage employees to be more engaged at work. When employees are recognised for their efforts, they're more likely to remain with the company in a productive capacity.
Free Promotion and Advertising
The results of corporate award competitions are usually promoted in the mail, online, in local papers, and in other advertising media. Winning a medal or being chosen as a finalist is a quick way to gain free publicity for a brand or a business. Furthermore, the advertising these medals provide is extremely powerful. When a company or employee is chosen as a finalist in a competition, they've proven that they're among the industry's best, and the firm gets additional promotion. New customers will realise that the company is a leader for its products and services. This sort of advertising isn't just free, but potent enough to encourage potential customers to act.
Generating Connections and Leads
Whilst on the subject of new contacts and customers, entering a business award competition or handing out medals is a great way to meet other corporate leaders and generate sales leads. Many competitions have a banquet or ceremony where winners are presented with their medals and achievements are celebrated.
During these events, corporate leaders and employees get the opportunity to meet with prospective customers, industry experts, and business leaders. The contacts made at awards events may turn into clients, mentors, or valued colleagues who generate referral business for companies.
A Lasting Endorsement
Winning a business plaque, branded medals, or award is a great way for a worker to boost his or her credibility in the view of future customers. In some ways, an award from a well-known organisation is like a reliable endorsement from a third party. A customised medal may just be the credibility boost a person or company needs to gain new customers and set themselves apart from the rest of the field.
Attracting Top Talent
If a corporate leader needs to fill positions with top-quality candidates, winning a medal, trophy, or other award may tell new hires that the organisation is a good place for them to further their careers. The company's prestige and acclaim will attract talented, ambitious people who can help it enjoy continued growth and success.
As shown here, there are many benefits to customised medals and awards, for workers and company owners alike. Visit our website to see our full selection or call us today to place an order.
Read More