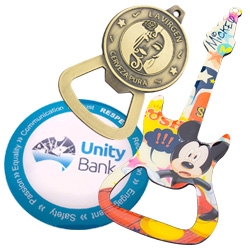 Bespoke Metal Bar Accessories & Beverage Products
Below are a couple of our favourite promotional metal bar accessories. From custom shaped bespoke bottle openers to fridge magnets and coasters we can provide all of it! Fully custom branded and made to shape with your choice of simple moulding, enamel ink filled designs and even full-colour photographic images. Talk to us today about creating the perfect metal bar souvenir for your staff or clients. Get A Quote Now
Quotes are 100% Obligation Free.
Emailed To You In Minutes.
Branded Barware & Bar Gifts
About Our Products
Gifting promotional items to both staff and customers is a fantastic way to ensure that your company is always at the forefront of their minds. Giving items that can bring enjoyment and be used again and again is a smart marketing move, and these items will often be used by many, many people - not just the person you have gifted it to!
You never know who might see or use your promotional item, and that's why we offer custom metal bar gifts branded with your logo. We know these types of gifts can get you results like never before and create a positive image in the minds of all who become aware of your business.
With custom metal bar gifts branded with your logo from The Pin Factory , you can make sure your clients always remember you. You will be able to make a lasting impression with our custom barware, as they are one of the most popular promotional accessories for a good reason.
They are suitable for a variety of purposes and can be suited to both staff and clients as a great gift or even as a souvenir.
Why Order Custom Metal Bar Gifts Branded With Your Logo?
Promotional bar items are high class promotional products that can really pack a punch. They are ideal for businesses looking to make an impression and get their message across. These types of items could be perfect for a restaurant, bar, club, resort, hotel or hospitality company, and are suitable for many more businesses and organisations. Whatever the event or reason, you can find a variety of products on our website that could suit.
Below you will get an idea of the custom bar items that we can create for you:
Bottle openers
Beer coasters
Fridge magnets
Beer tap badges
Bottle openers
All of the above items can be customised with a printed or engraved logo. We endeavour to complete this work to the highest quality and ensure that the items stand to last a lifetime. These types of gifts and promotional items can help to ensure corporate product launches are successful, and are guaranteed to improve the drinking and dining experience. Personalised barware is a wonderful addition to just about any entertainment event or venue.