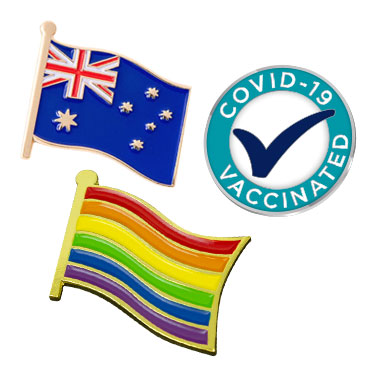 Buy Badges Online, In Stock Designs Available Next Day.
Whether to support your country, a worthy cause or making a fashion statement, pin badges are the perfect solution. They're convenient, cost-effective, and make a clear statement. Thanks to our team you can have badges at your disposal next day on most designs! Order through our secure checkout now or call us on 02 9054 8990 to place an over the phone order.


Browse all In Stock Designs
Pin Badges You Can Rely On.
Here at the Pin Factory, we have supplied badges and keyrings to thousands of customers throughout New South Wales and beyond. We guarantee beautifully designed products made from robust metals at affordable prices time and time again.
Whether you're looking to buy badges online for your team of employees, charity supporters, or group members, we can satisfy large orders. Alternatively, if you just want a single pin for personal usage, our experts will get your product delivered directly to your door in as little as 24 hours.
Pin Badges To Spread Your Message.
Pin badges can simply make a fashion statement, but we believe that the best pins say something about you. Our stock of designs is always changing but includes some very important messages. Or you can contact us for a custom-made design.
Whether it's celebrating your country with an Australian flag badge, promoting awareness of a charity like breast cancer, informing people of your Covid safety, or showing solidarity with the LGBTQ community with a Pride badge is up to you. Either way, you can be certain that our online badges will raise a smile.