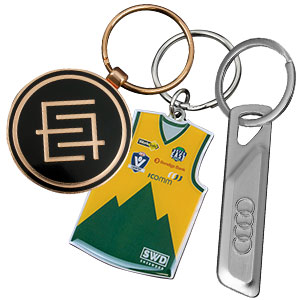 Australia's Best Quality Bespoke Keyrings
Are you interested in finding new products to enhance your business branding? Get in touch with us! If you have been looking for something that you can give to your clients, sell to raise money for charity, or give away at corporate events, consider our custom metal keyrings. These are all made to order, giving you the exact style and finish to suit your business.


Browse all Metal Keyrings
Australia's Finest Quality
We provide custom metal keyrings that can be used to serve a number of interests. For example, you can give these away to your clients so that they think of your business every time they look at your keys.
This will also do wonders for your branding as people are going to see your business logo or whatever special thing you have chosen to print related to your business. It's like free advertising at its finest!
All of our custom metal keyrings are made to the highest possible standard, ensuring that you get exactly what you are paying for. Our service is the highest quality in Australia, so you can trust us to provide you with the best.
Get In Touch Today
If you would like to know more about our keyrings, or you are interested in getting started, get in touch with us today. We can offer you a no obligation quote, and a free design preview to get you started. We want you to have exactly what you require from our service, and a member of our team is on standby, waiting to help!