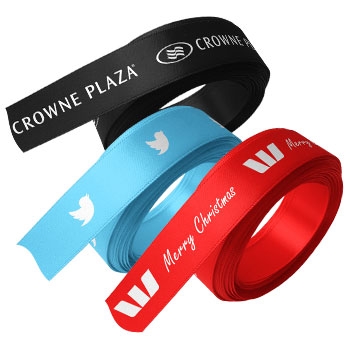 Custom Printed Ribbon At Factory Direct Prices.
Printed ribbon is brilliant for dressing up gifts or packaging. It is also perfect for decorating event areas and create a great corporate image when made to compliment your brand.
We can't be beaten on price, quality or turnaround time on custom printed ribbon in Australia. Our design team are on standby to assist with a 100% free design proof and our sales team are ready to assist you through the order process. Enquire today.


Browse all Printed Ribbon
If you have been thinking about trying something a little different when it comes to your business, custom printed ribbon could be the way to go. With a number of different purposes and uses, you can really get a lot out of using this product.
Custom Printed Ribbon
Have you ever thought about using custom ribbons for your business? We can offer you a range of different styles from opening ribbon, award ribbons, medallion ribbons and so on. Our service is the leading company in Australia, providing ribbons that are personalised with the customer's logo or company brand.
Due to our extensive range of ribbons, there is something for everyone. You can use this to tie around your products, or order them for a special thank you for people in your business. You can even give them to customers as a thank you when they purchase from you.
Trust us to provide you with the highest quality products in Australia, and that's exactly what you are going to get.
Get In Touch
We can offer you a no obligation quote to get you started and a free design preview so that you get an idea as to what your ribbon will look like. This can help you decide whether or not this service is for you! A member of our friendly team is on standby, waiting to hear from you.