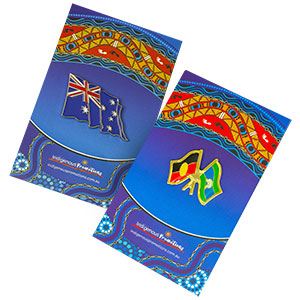 Indigenous Theme Lapel Pins & Badges Available Same Day
Lapel pins are a great addition to brighten up your staff or team uniforms, but they can also be much more. Indigenous badges and Aboriginal flag pins can make a statement about who you support and who you are. These great lapel pins from our friends at Indigenous Promotions let you celebrate Australian heritage and culture in a fun, fashionable way.
The Pin Factory boasts a wide selection of Indigenous themed lapel badges that can be ordered today and delivered tomorrow via express courier. Call us on 02 9054 8990 or check out the range below.


Browse all Indigenous Range
Indigenous Badges That Carry Real Meaning.
No matter what part of Australia you are from, our Indigenous badges are the perfect way to celebrate our country and heritage. We boast designs celebrating everything great about Oz culture from Aboriginal flag pins to kangaroo pins and boomerang designs. We also have pins showcasing the three flags of Australia, as well as individual flag pins.
All of our Indigenous and Australian theme lapel pins are made from premium quality materials that are built to last while our attractive designs can be conveniently worn on bags, jumpers, and t-shirts as well as hats.
The Perfect Gift… Even For Yourself.
Here at The Pin Factory, we know that badges can make an excellent gift to show gratitude to a friend, customer, or colleague. Our carefully crafted Indigenous lapel pins are also nicely packaged, ensuring that they deliver a positive result time and time again. If you are looking for bulk pricing or special wholesale rates contact us.
Whether for a loved one or yourself, the Aboriginal flag pins and other Indigenous badges are the perfect addition (or start) to your collection. We've supplied badges to thousands of satisfied customers and we hope you will join their ranks!