Custom Tie Clips & Tie Bars
Staff at a corporate mixer or a presentation should look the part, so why not give them a completely bespoke branded tie clip to go with their uniform? Or perhaps award people with a specially designed tie bar that states their rank within an organisation. This is a great way to encourage other staff or team members to ascend to this rank or give customers a tie bar as a thank you gift for being loyal clients. The possibilities are endless, and our range of branding options will not disappoint!
Read More ...
Less
Rush Service
14 Days
Minimum Order
100
Artwork Design
100% Free
Request A Free Quote!
Branding method explained
Cufflink branding used as indication only, we can reproduce all the below effects onto our range of tie clips. See above gallery for images of these branding methods used in various tie clip options.

Metal colours and finishes available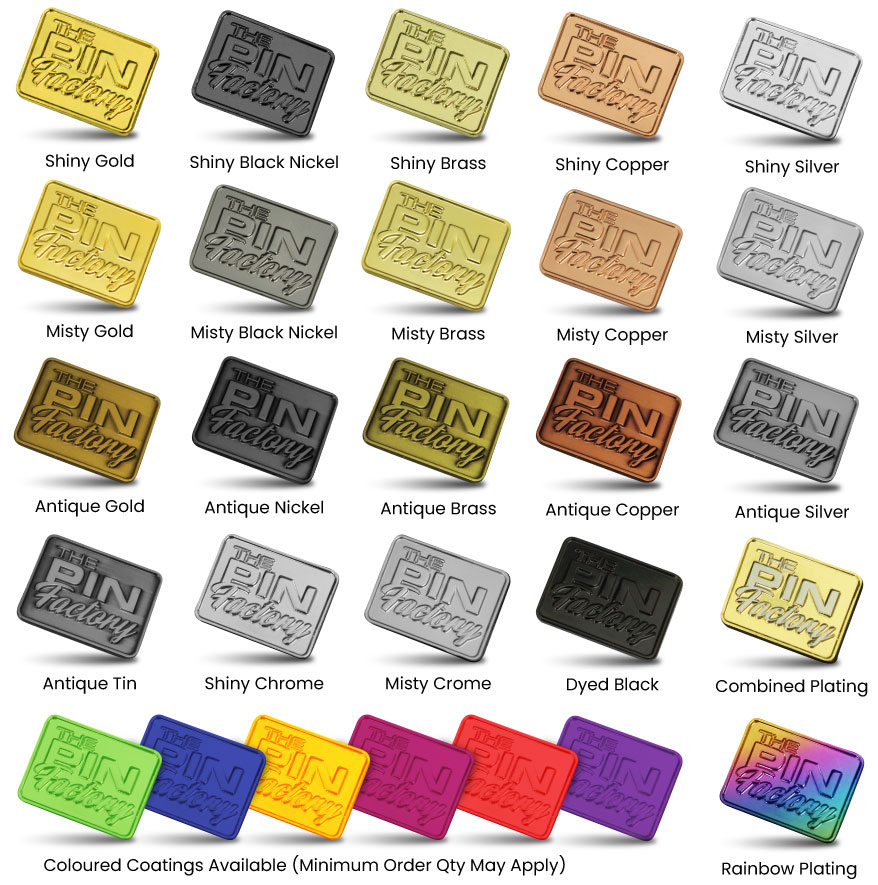 All New Custom Textures Available!

Why choose promotional custom tie clips?
Today, even small Australian startup companies give away promotional items. Custom gifts make it easier for businesses to get their names in the public eye. Branded tie bars are especially popular gifts because they are useful, always appreciated, and provide an excellent return on investment. It is also easy to order unique styles and have them custom designed.
Promotional Tie Clips Have a Range of Uses
Corporate tie clips are popular promotional gifts because they can be adapted for a variety of needs. Businesses award them to employees who have achieved important milestones, like service anniversaries. Tie bars may be used to reward special achievements or as elegant corporate gifts. The custom clips help increase team spirit and create a professional look among employees. In Australia, many companies also build good will by giving promotional tie clips to clients.
Tie Clips Are Welcome Gifts That Increase Brand Companies
In recent advertising studies, 42% of respondents said that promotional gifts help improve their impressions of companies. That is especially true of popular gifts like Bespoke tie clips, which employees and clients truly enjoy getting and using. Tie bars also act as ongoing advertising, since they are worn and seen often. When they include company logos, clips serve to increase brand awareness every time they are worn in public.
It Is Easy to Customise Tie Bars
Suppliers who provide custom promotional items make it simple for businesses to order tie clips for every need. For instance, metal-on-metal Die struck clips are perfect for years of service awards. They are available in finishes that include nickel, gold, antique, and bronze. Designs include raised logos, single colour, moulded shapes, and multi-colour products. Clients get a chance to view and approve mockups before tie bars are produced. Custom tie bars are also very affordable and providers often include price match guarantees. Customers can even choose same day production and often have orders delivered in just 10 days.
Australian businesses often maximise their advertising dollars by ordering custom tie clips that they use as promotional giveaways. Custom tie bars are ideal employee and customer gifts. They are also affordable and easily customised to fit business needs.