More Information
Custom award rings
A custom recognition ring is what every employee would like to wear and show off to their colleagues. Custom recognition rings are perfect for showing an employee the recognition he or she deserves. They work for all sorts of occasions and are great if your company runs some sort of award scheme.
Employee awards and recognition of achievement can mean as much as a fantastic paycheque. Sure, it is great to receive a financial boost, but at the same time, it is nice to show off an achievement to colleagues at work. Custom recognition rings let you do so in a discreet but appreciative way.
However, it is not only employers who can take advantage of these lovely rings. Schools and athletic groups can also use them to give someone vital recognition. In recent years, it has become less popular to give out large awards. Custom recognition rings can certainly replace costly static awards of displays.
Our custom recognition rings come in a variety of metal finishes. In the future, they are bound to become a special keepsake and something to talk about with friends and family. Like any other award for achievement or recognition, the receiver will appreciate them. They will immediately give you something to talk about when you meet someone for the first time.
For your free quote and mockup, get in touch with us and we will get back to you within minutes. Order our custom recognition rings today to award those around you who are special or may have achieved something amazing. It is a unique way of saying thank you.
Metal Finishes Available
The Pin Factory can not be matched on diversity and customisation options, and our range of metal finishes demonstrates this. Not only do we offer a vast array of colours and effects but we can also combine multiple effects in to one design. Ask our team for guidance on selecting the best metal finish for your needs.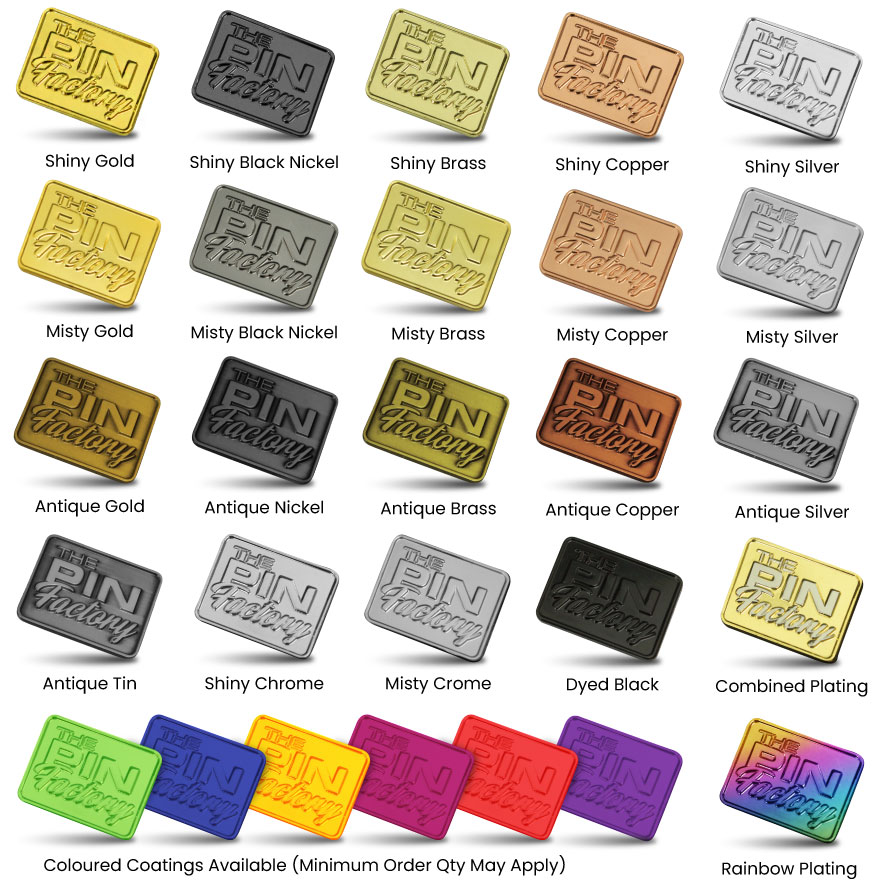 All New Custom Textures Available!
We offer a full range of knurled and cross cut effects to our lapel pins, coins, keyrings and other metal products.

Add Some Sparkle To Your Design!
All of our enamel pin, medal and keyring products are available with a glitter effect in a myriad of colours, you can opt for fine glitter in the same colour as your enamel for a subtle touch or go big with silver or gold glitter added to your base enamel colours. Ask our team to recommend some options that suit your design.

Our Fast And Easy Order Process
Instant Quote

Browse any product and select a few key options, then enter your details to receive an instant quote from our system.

Send Us Your Idea

Send us a sketch, design files or just a description and let our design team design and amend until you are 100% happy.

Approve Artwork

Our team will send you a production ready artwork for approval so you can see exactly what you are ordering.

Produce & Deliver

We will then produce your pins according to approved artwork and delivery straight from our factory to your door!
Need Help? Can't Find The Right Product?
If you need help choosing the right product for your business then talk to us today! Our experts are on stand by to assist with your query.
We also specialise in bespoke creation of products and product development so if you have an idea or have seen an item somewhere that is not listed on our website then we can help to bring your vision to life.
People Love Our Products & Service