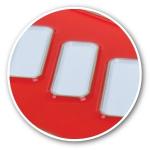 Soft Enamel
A Brilliant effect and by far our most popular style of lapel pin finishing. We mould your design into the shape of the pin and then fill various sectors of the design with colour matched enamel to create a vibrant, extremely long lasting and durable finish. The difference between raised enamel and flat enamel is that these badges have an almost 3d look, with raised section that are polished or sandblasted to create a more defined finish. Read our soft vs hard enamel guide.
More Information
Decoration Method:
Soft Enamel Inkfilled
Lapel Pin Size:
Size 25 x 15mm.
Thickness:
2.5mm
Need Help? Can't Find The Right Product?
If you need help choosing the right product for your business then talk to us today! Our experts are on stand by to assist with your query.
We also specialise in bespoke creation of products and product development so if you have an idea or have seen an item somewhere that is not listed on our website then we can help to bring your vision to life.
People Love Our Products & Service