More Information
Custom branded belt buckles with your logo!
Customised belt buckles are a great branding value, and they're also a great way to commemorate the completion of a major project or a long career. It's easy to order our branded belt buckles for shipment anywhere in Australia because our designers do all the work for you. Order today and showcase your marketing message for years into the future!
Use Our Buckles for Promotions and Marketing
We offer numerous promotional products and corporate gifts, but our custom belt buckles are one of our most popular lines. These buckles are a fine way to reward team members for the successful completion of projects, to honour workers for attaining certain goals, or to let VIPs know how much they're appreciated. Whether it's worn as a sign of achievement or a badge of honour, our customised belt buckles are a practical, yet memorable solution.
Benefits of Promotional Belt Buckles
Whilst a belt will literally hold the wearer's outfit together, it would be useless without the buckle. Belt buckles are front-facing, standout pieces, and that's what makes them such useful marketing tools. Buckles may also be worn as the recipient goes about his or her daily duties, or by retail associates as part of a uniform. The versatility of belt buckles is what makes them so appealing to different kinds of people; because they reach such a wide audience, your brand will be seen by an unlimited number of people.
Sturdy Materials
Our custom belt buckles are made of sturdy materials that give them a lengthy lifespan, and they're so versatile that they can be used with a range of belts. Transferring buckles from one belt to another is quite easy, which means these products can be worn in numerous ways. We sell customised belt buckles for leather belts, fabric belts, and almost any other sort of belt a person can wear.
A Variety of Uses
The versatility of our belt buckles makes them a fine marketing tool or promotional gift. Whilst these make excellent employee gifts, they're good corporate giveaways as well, and almost any industry will be able to use these buckles for their marketing needs. Our custom belt buckles are particularly useful in the fashion industry, as they add style to any outfit.
Branding and Manufacturing
Our belt buckles are made with a range of materials and manufacturing methods. The shape, style, and numerous branding options make complete customisation easy, and we have higher-end and budget-friendly options for any need. Most of our belt buckles are made of die-cast metal and other durable materials to lend them a solid, high-quality feel and give them a longer lifespan. Call us to learn about your material, production, and branding options.
Distribution and Shipping
Because our customised belt buckles are quite heavy, they're somewhat costly for our customers to ship. For personalised presentation, we suggest distributing these products on a one-on-one basis. However, because we sell in bulk, we offer inexpensive shipping throughout Australia. With fast shipping and short lead times, why order anywhere else? Call us or visit us online to get started.
Metal Finishes Available
The Pin Factory can not be matched on diversity and customisation options, and our range of metal finishes demonstrates this. Not only do we offer a vast array of colours and effects but we can also combine multiple effects in to one design. Ask our team for guidance on selecting the best metal finish for your needs.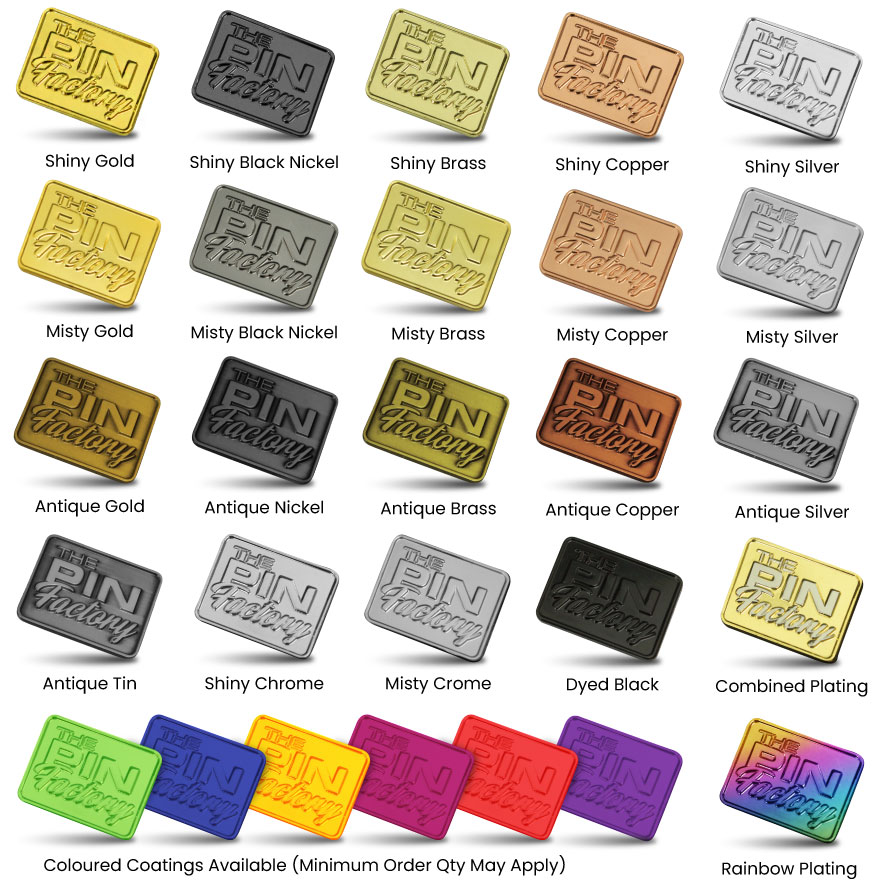 All New Custom Textures Available!
We offer a full range of knurled and cross cut effects to our lapel pins, coins, keyrings and other metal products.

Add Some Sparkle To Your Design!
All of our enamel pin, medal and keyring products are available with a glitter effect in a myriad of colours, you can opt for fine glitter in the same colour as your enamel for a subtle touch or go big with silver or gold glitter added to your base enamel colours. Ask our team to recommend some options that suit your design.

Our Fast And Easy Order Process
Instant Quote

Browse any product and select a few key options, then enter your details to receive an instant quote from our system.

Send Us Your Idea

Send us a sketch, design files or just a description and let our design team design and amend until you are 100% happy.

Approve Artwork

Our team will send you a production ready artwork for approval so you can see exactly what you are ordering.

Produce & Deliver

We will then produce your pins according to approved artwork and delivery straight from our factory to your door!
Need Help? Can't Find The Right Product?
If you need help choosing the right product for your business then talk to us today! Our experts are on stand by to assist with your query.
We also specialise in bespoke creation of products and product development so if you have an idea or have seen an item somewhere that is not listed on our website then we can help to bring your vision to life.
People Love Our Products & Service