Keyrings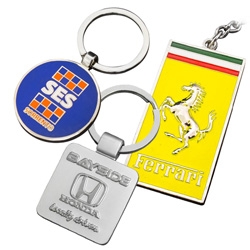 Custom Metal Keyrings 100% Made To Order At Record Low Prices
We won't be beaten on our range of metal products, this includes our metal keyrings and chains with your logo moulded directly into the fob or perhaps an epoxy dome finish with a full colour logo is more on brand. Whatever your requirement, it can be done by us, quickly, correctly, and with a minimal of effort from your end. Give our designers the opportunity to create you a free virtual sample and our sales team will provide our fully written, itemised quotation. History
Uses Of Keyrings
Competitive Offers
More Then Just Keyrings
They hold the keys to our house, our car, our motorbike, the mobility scooter, and heck even that yacht in the South of France. And various valuable belongings. They live in handbags and pockets. They dangle from belts, or hands. Barely noticeable sometimes but always present, many aspects of daily living are held together by this small metal item, the keyring. The keyring has been around for centuries. It followed soon after the key, another equally old and significant symbol. Keys were used as early as four thousand years ago, by the ancient Egyptians, and symbolised power.
Keyrings apparently gained fame as a fashion statement in ancient Rome. In those times, the wealthy elite wore copious and excessive amounts of gems and jewels. Romans of old believed in wearing as much as possible as a way of showing their superiority over the less financially fortunate. They were status driven and not prone to modesty until that is, crime came to town, and thieves began a reign of robbery. Now the elite were required to keep their jewellery under lock and key when not wearing their finery. So began the trend of locking away jewellery in a chest. But who would look after the key? The solution was found in the simple but effective keyring, upon which to hang the keys.
The desire to flaunt was still prevalent though and this is where the keyring came in as a fashion statement. For, to wear a keyring, was to tell one and all that being merely in possession of the keyring, the holder could have untold wealth. So much wealth in fact, that it had to be locked up. The togas worn by many Romans unfortunately had no pockets, so the best way to keep small objects from getting lost were to wear them on one's person. Owners began to don keyrings, not only to secure their valuables but ostentatiously to show others that they had wealth worth locking up. Whether for pragmatic or illusory purposes, they became very popular indeed.