Challenge coins are a premium and substantial way to recognise people for merit and achievement within your organisation. 100% custom made to order our challenge coins are produced to a truly superior quality standard.
100% Custom made to order.
Choose from over 20 metal finishes.
Die struck, enamel, glitter and engraving options.
Mix and match effects to create something truly stunning.
Minimum order only 25.
Sometimes there are people who assist your business who are not on the payroll and these very well made commerative coins can be given as a gift to say thanks, or perhaps a customer spends a large amount of money with you each year, why not give them a coin in a perfectly designed gift package. Our team will help you through the entire process, our designers can craft a coin to suit your branding and your intended message and our sales team will write you a lightning fast quote.
Read More ...
Less
Rush Service
14 Days
Minimum Order
25
Artwork Design
100% Free
Request A Free Quote!
Trusted supplier to the Australian Government
As a preferred supplier to the Australian Government, Emergency Services and The Australian Defence force you can rely on us to provide the highest quality products on budget, on time, every time!

Metal colours and finishes available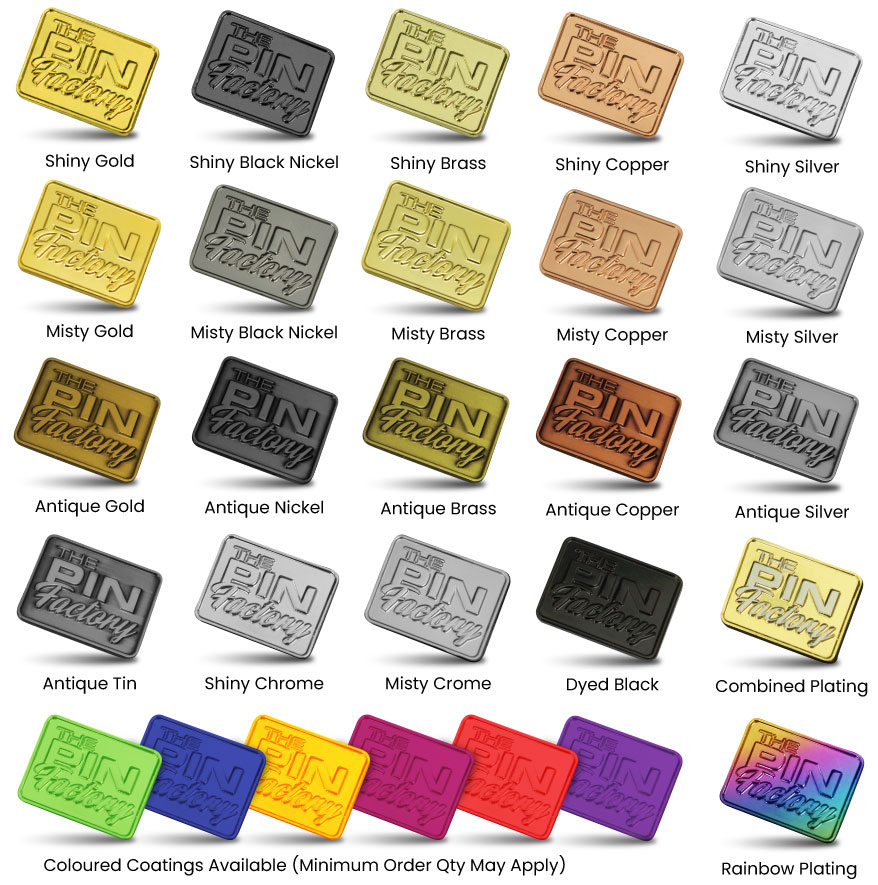 All New Custom Textures Available!

Branding Method Explained
We offer all the exact same branding methods on these medallion coins as our range of medals suggests. Stamping with enamel fill, dome badge finish, full-colour printing and even laser engrave or combination metal options. Browse our range of medals to see the various types of metals and branding styles available
Custom coins & challenge coins are still as popular as ever
Custom coins are popular with a variety of organisations, and with good reason. They are perfect for commemorating special occasions or showing affiliation with a particular social club, place of employment, or just about any other group.
Military Challenge Coins
One of the most common forms of commemorative coin is the military challenge coin. Challenge coins have a long and storied history within the military dating all the way back to the First World War. Each military unit has its own custom-designed coin, which each individual member would carry. The name is derived from the practice of "challenging" other military personnel to show their coins as proof of their unique military affiliation.
Today, these coins are commonly in use in just about every military branch. Since each military unit has its own unique coin, we carry a wide variety of different challenge coins in stock to represent different branches, platoons, squadrons, battalions, and specialties. Keeping these specialty military coins in stock means they can be shipped immediately and special-ordered for surprisingly low prices.
Ensuring ready availability and competitive pricing of high-quality military challenge coins is just one of the ways this company chooses to show our support for the brave men and women who have dedicated their lives to serving their country.
Celebrate Valued Members or Employees
Custom-designed coins have not been historically unique to the military. Police officers, fire departments, and a wide range of social clubs give specialty coins to their employees or members as well. This helps to create a sense of group solidarity and pride and, after all, why shouldn't local firemen and other bastions of the community celebrate their elite and valued memberships?
Custom Gifts for Business staff and clients
Custom coins aren't just for service members and social clubs. Commemorative coins have been growing in popularity in recent years as well. These coins can be custom printed to contain corporate logos and personalised messages, making them fantastic door gifts for everything from commemorative anniversaries to retirement parties for valued employees.
Although a mould fee does apply for custom-designed commemorative coins, we offer design services free of charge. The mold fees vary depending on how large the coin is, how complex the design is, and whether the coin design is one-sided or two. Eight enamel colors and six plating finishes are also available, and all artwork designs come with free revisions to help ensure customer satisfaction. All custom coin orders come with free ground shipping.
Trade Show Giveaways
Today's marketing world is extremely competitive. Having a unique and high-quality product to give away can make the difference between creating a memorable impression and being just another booth at the trade show. Customised metal coins make a thoughtful and lasting gift for new clients or customers or for otherwise interested parties as well as employees.
Keep in mind that we offer discounts on large orders, making customised coins a cost-effective marketing strategy as well as unique and thought-provoke. Discounts start with orders as small as just 250 coins and vary based on the number of colors used in the design.
Keep Them On Display
Many servicemen and women choose to carry their challenge coins with them on a daily basis. However, other types of custom coins may be put to better use on display in prominent locations. That's why we offer quality display packages for an additional fee. A beautiful gift deserves an equally beautiful presentation, so be sure to give adequate thought to what type of presentation package would best suit the occasion prior to placing an order.
Choose a Custom Package
The basic package for all custom coins comes with an unadorned edge on a three-millimeter-thick coin. Additional edge options and presentation packages are available. Edge options include petal edges, oblique line edges, rope line edges, grid edges, and diamond line edges. Standard packaging includes a vinyl pouch. However, coin stands, velour gift boxes and pouches, and acrylic coin cases are also available.
Interested in placing an order? Call today to get in contact with our custom product department to get started on the design process. Keep in mind that we offer a wide variety of other products, such as pins and jewelry, as well. Our designers are always on-hand to answer any questions, as we strive to provide customers with the highest quality of customised coins and other memorabilia. Contact a representative to learn more.
Medal Gift Packaging & Presentation Cases